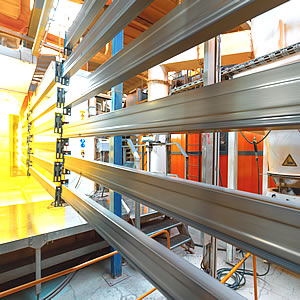 Powder coating is one of the most popular ways to paint aluminium extrusions and profiles.
---
The variation in colours available are almost limitless and offers the customer a colour finish that is both consistent and stable.
Preparation
When considering the powder coating process, the most critical aspect is how the extrusion is prepared before painting. A pre-treatment is absolutely crucial to ensure maximum adhesion and long-term durability. The procedure typically involves the degreasing and pickling of the surface, followed by a chemical treatment.
Painting
Powder coating colours are essentially limitless. The actual coating powder is solvent-free, and as long as you have a RAL colour in mind, we can supply aluminium extrusions with a colour finish to suit your particular requirements. Powder coating offers good resistance to UV degradation and atmospheric corrosion. Therefore, extrusions with a powder-coated finish can be used effectively in open-air environments. Painting in this way also offers good formability, and bending the extrusion is possible after the powder coating process.

After the powder coating process is complete, certain polishes or varnishes can also be applied where necessary. Note that powder thickness should be considered when calculating the dimensions and tolerances of the aluminium extrusion in some instances.
Key Features
---